Fist call
by
Denys Vynokurov, Kyiv, Ukraine; denys.vynokurov@ukr.net
Ivan Moysiyenko, Kherson, Ukraine; ivan.moysiyenko@gmail.com
Dariia Shyriaieva, Kyiv, Ukraine; darshyr@gmail.com
Iwona Dembicz, Warsaw, Poland;iwodem@op.pl
Idoia Biurrun, Bilbao, Spain; idoia.biurrun@ehu.es
The 14th EDGG Field Workshop will take place in Ukraine from 25th May to 03rd June 2020. The main idea is to sample steppe grasslands along climatic gradients (precipitation and temperature) using a standardized sampling approach (Dengler et al. 2016).
Study region
We will start in Kherson city in Southern Ukraine, and will move northward to Poltava region. The ending point of the Workshop is Kyiv. We will sample four different climatic types of steppes: desert steppes, bunchgrass steppes, forb-bunchgrass steppes, meadow steppes. During the first day we will focus on the desert steppes of the Syvash Lake (Churiuk Island or Kuyuk-Tuk Island). This type of steppe is classified as Artemisio tauricae-Festucion valesiacae (Kolomiychuk & Vynokurov 2016). Annual precipitation of this locality is 350 mm, mean annual temperature is 10.5°. The next two days we will continue sampling in bunchgrass steppes (Syvashyk Liman, Molochna River Valley, Zaporizhzhia region). During the next days, we will move northward sampling forb-bunchgrass steppes in Zaporizhzhia, Dnipro, Poltava and Kharkiv regions. The possible preliminary localities are: Khortytsia Island, Dnipro River Valley, Dniprovi Porohy Regional Landscape Park, Oril River Valley. The last type will be meadow steppes of the Forest-Steppe zone in Poltava region. Annual precipitation of the last locality is 600 mm; mean annual temperature is 7.3°.
Participation
We expect up to 20 (exceptionally up to 25) participants in total, including 3-4 organizers. Unsuccessful applicants of 2019 will have priority when they apply again.
Fees
650 € for postdocs, senior scientists or other regularly employed persons who are not IAVS members
600 € for postdocs, senior scientists or other regularly employed persons who are IAVS members
600 € for students (includingPhD students) and unemployed persons who are not IAVS members
550 € for students (including PhD students) and unemployed persons who are IAVS members
The fees will be handed in the first day of the FW to the organisers. The participants who are granted with the travel grant will obtain the grant in the same day.
Details and contact information
A detailed call with possibility to register will follow in the next issue of Palaearctic Grasslands. If you have questions before that, you can send an email to denys.vynokurov@gmail.com. If you have expertise in grassland taxa other than vascular plants (bryophytes, lichens, invertebrates, soil metagenomics,…) and consider joining the expedition, please approach Iwona and Idoia as early as possible to discuss options.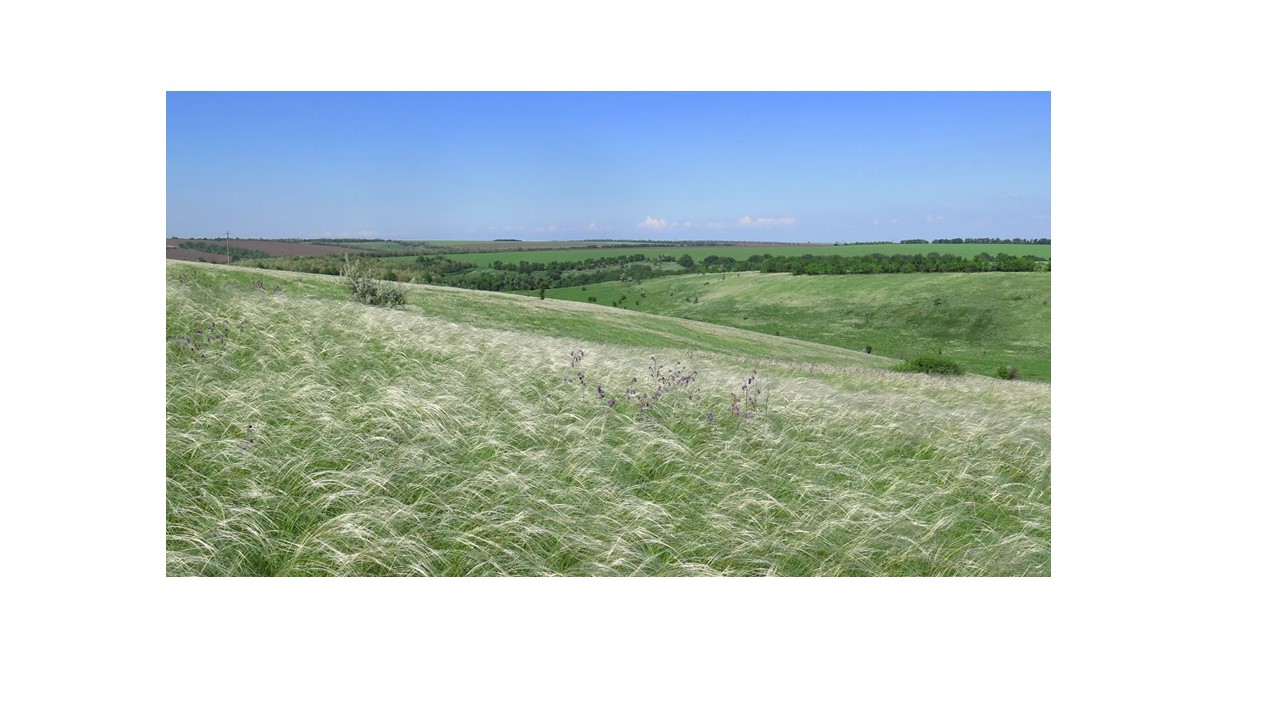 Forb-bunchgrass steppe in "Dniprovi Porohy" Regional Landscape Park. Photo: V. Maniuk.
Map of Ukraine with approximate sampling locations
References
Kolomiychuk, V. & Vynokurov, D. 2016. Syntaxonomy of the Festuco-Brometea class vegetation of the Azov sea coastal zone. Hacquetia 15/2: 79-104.
Dengler, J., Boch, S., Filibeck, G., Chiarucci, A., Dembicz, I., Guarino, R., Henneberg, B., Janišová, M., Marcenò, C., (…) & Biurrun, I. 2016. Assessing plant diversity and composition in grasslands across spatial scales: the standardized EDGG sampling methodology. Bulletin of the Eurasian Grassland Group 32: 13‐30.