EGC2019 offers a mid-conference excursion in Austria on 31st May and a post-conference excursion in Slovenia between 2-5 June.
Mid-conference excursion (31 May 2019)
This excursion will lead us to the surroundings of Neumarkt/Steiermark. The Neumarkter anticline is situated between two mountain systems of different geology – in the west the Grebenzen (1892 m asl, palaeolithic limestone) and in the east the Seetaler Alpen with the Zirbitzkogel (2396 m asl, mainly gneiss). In the glaciation period, a branch of the Mur glacier pushed its way down from the northern main valley and covered the area with moraine material. The natural vegetation is dominated by spruce forests, fir and beech are restricted to climatically humid conditions.
In this region there is a tradition of feeding milk cows mainly by grazing and hay, complete without silage. In former times the milk was required for hard cheese production, now this special milk is traded with the brand name "hay milk". We will visit some of these farms, most of them applying only or mainly solid manure. In these grasslands, most of them belonging to the Arrhenatherion elatioris, Cynosurion cristati or the Phyteumato-Trisetion alliances, we could determine up to 60 plant species (average 32,8) on 10 m2 plots. The meadows are mowed twice per year and often grazed in autumn after the second cut. We will also see some of the season-round pastures, that are not as species rich as the meadows but show also around 30 plant species.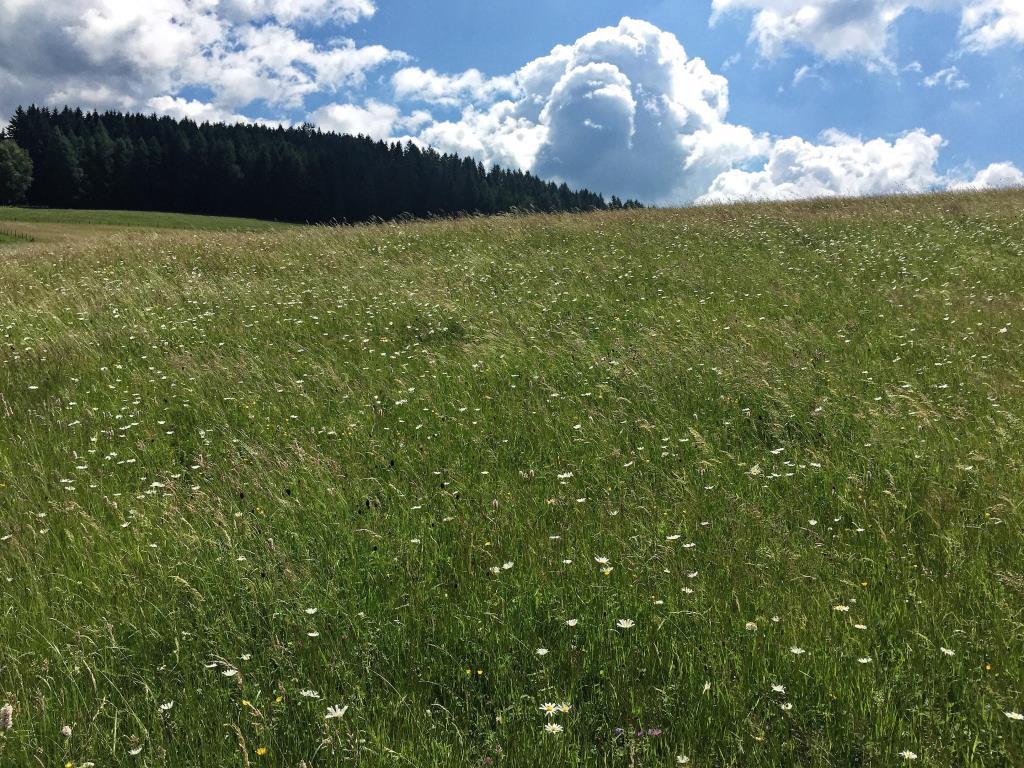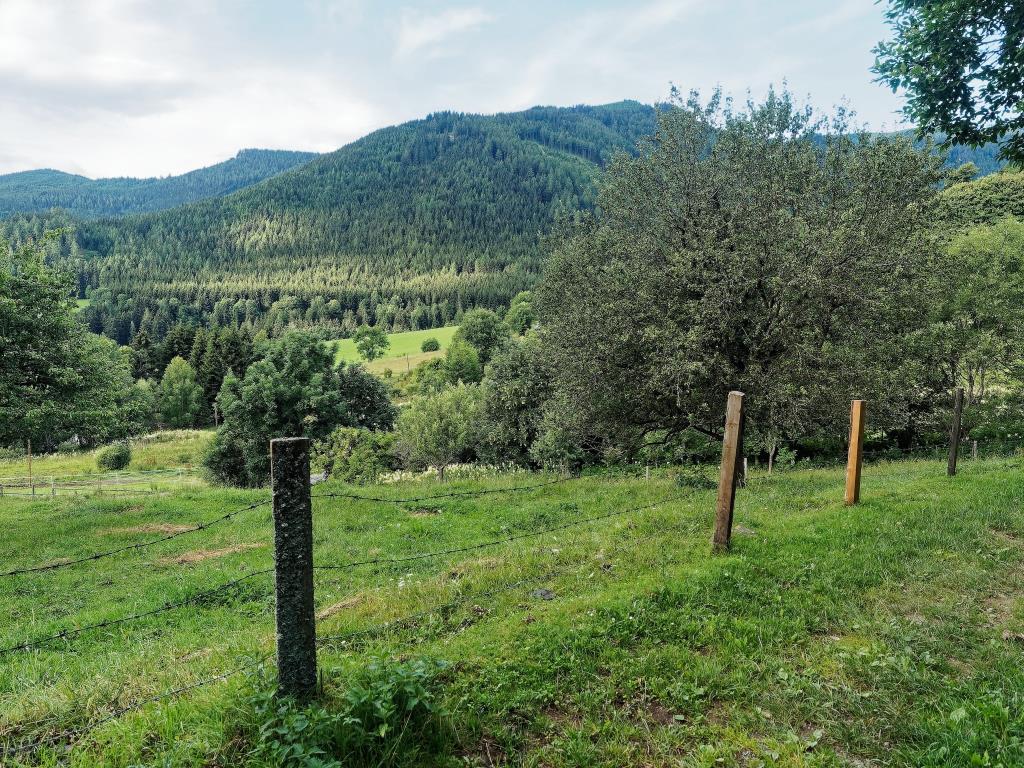 Photos: Hay meadow in Pöllau near Neumarkt/Steiermark, pastures in Pöllau. Photos by M. Janisova
Pastures in Pöllau. Photos by M. Janisova
Post-conference excursion (02 – 05 June 2019)
(optional - maximum number of participants: 40)
A three-day post-conference excursion will take place in Slovenia (2–5 June). Slovenia has very interesting position at the intersection of four major European geographical units, the Alps, the Dinaric Alps, the Mediterranean and the Pannonian plain. On the first day, we will visit the Goričko Landscape Park, which forms one part of the Trilateral Park extending across Austria, Hungary and Slovenia. Goričko is a well-preserved example of typical and traditional Central European agricultural landscape with a mosaic of fields, grasslands, orchards, vineyards, hedges and forest.  Geological substrates are mainly tertiary sediments, which form a gently sloping, hilly landscape of sandy-acid soils with a rich surface network of fresh water. Goričko is also a Natura 2000 area and aims to preserve traditional and extensive small-scale farming. We will visit several sites in the area with different types of extensively used semi-natural grasslands, four of them included in the EU Habitat Directive. Plant communities include the classes Festuco-Brometea (Bromion erecti), Molinio-Arrhenatheretea (Molinion caeruleae, Filipendulo-Petasition, Arrhenatherion elatioris) and Nardetea strictae (Violion caninae). Rare and interesting plants include the wet meadow species Hemerocallis lilioasphodelus, Achillea ptarmica, Iris sibirica, Gentiana pneumonanthe and Succisa pratensis, and the dry grassland species Dianthus deltoides, D. armeria, Moenchia mantica, Muscari comosum, Verbascum phoeniceum, etc.  In addition to the high nature value habitats the area is also known by religious diversity (Protestants, Catholics, Calvinists, Baptists, Pentecostal) and unique cultural treasures. Participants will have the opportunity to visit the Romanesque Rotunda, a small circular sanctuary in the village of Selo. According to the legend, the church first belonged to the Templars. It is estimated that it was built sometime during the first half of the 13th century (1205–1235).
Photos: Dry Arrhenatherion grasslands and wet Molinion meadows with Iris sibirica in the Goričko region, photos by S. Škornik
Photos: 1)Traditional hay making in Selo village, 2)the Romanesque Rotunda, a small circular sanctuary in the village of Selo. Photos by N. Pipenbaher
The second day will be devoted to the Haloze region, which has the highest density of "orchids-rich meadows" (Bromion erecti, ass. Onobrychido viciifoliae-Brometum) in Slovenia (approx. 25% of non-forest land). It is the land of the low Tertiary hills with highly diverse relief. The altitudes reach up to 600 m a.s.l. The agricultural management practices are strongly determined by the steep slopes, ranging from 6 to 30 degrees. In the past, Haloze used to be known particularly for its excellent wine growing regions. A large part of the western Haloze area is covered by deciduous forest (Carpino-Fagetea). Rare plants include numerous species of orchids, such as Ophrys sphegodes, O. holosericea and O. apifera, Himantoglossum adriaticum, Anacamptis pyramidalis, Dactylorhiza sambucina, Gymnadenia conopsea, Orchis ustulata, etc. We will also visit wooded (dry) grasslands along the Drava River. This very unique habitat type developed on limestone gravel deposits and represents the remains of an ancient cultural landscape.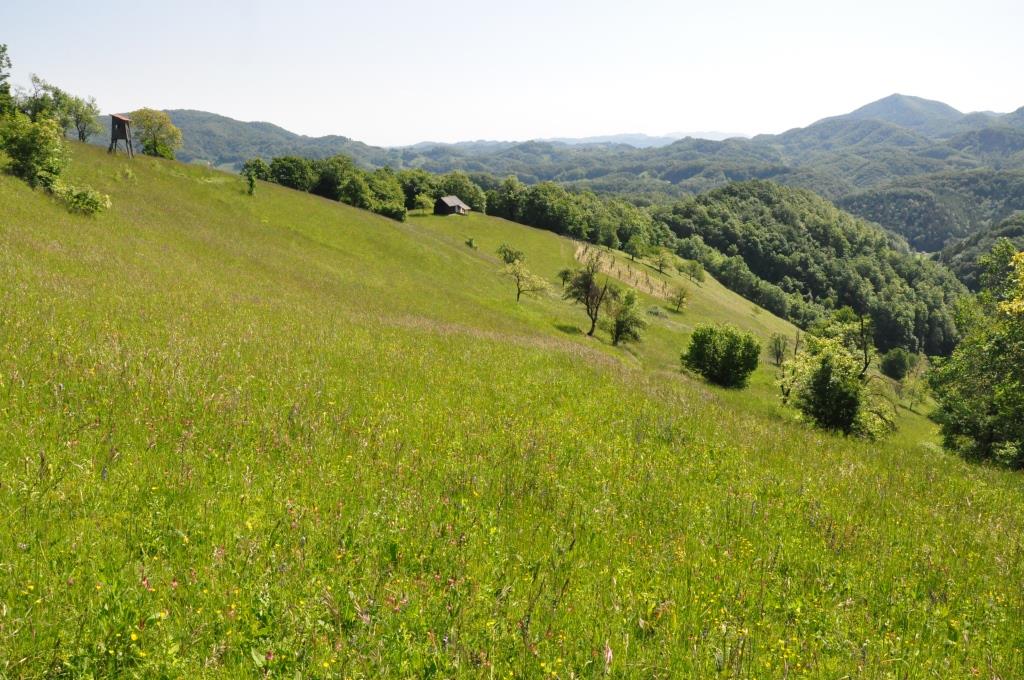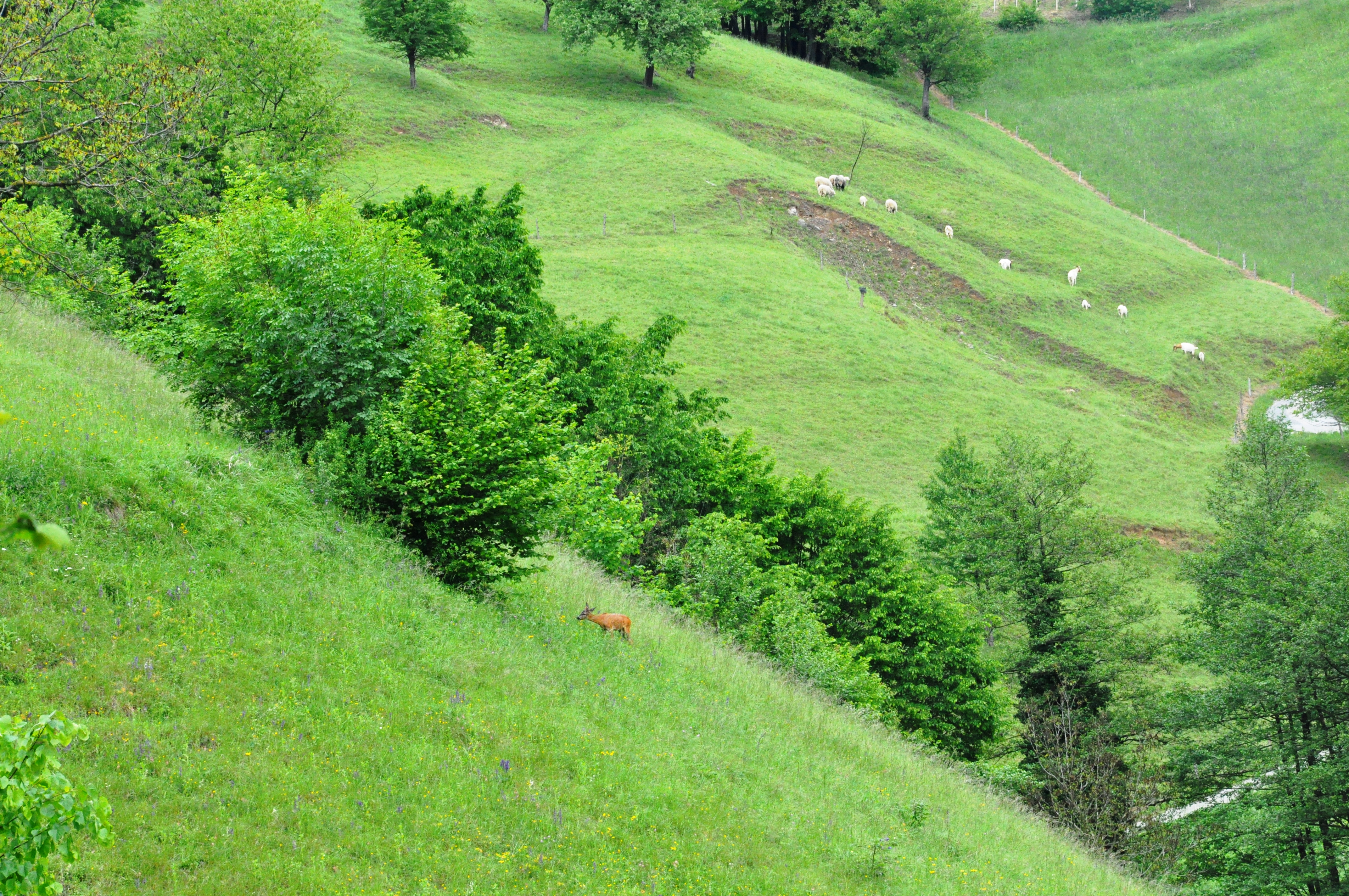 Photos: Orchids-rich Mesobromion meadows (Onobrychido viciifoliae-Brometum) and Sheep grazing on steep slopes in Haloze region, by S. Škornik
The third day will take us to the Slovenian Northern Adriatic karst zone, which represents the northeastern most branch of the Dinaric mountain range, extending along the Eastern Adriatic.  The climate is transitional between Mediterranean and continental pre-Alpine, with cool, rainy winters and long, hot, dry summers.  The natural vegetation is mixed deciduous thermophilous woodlands. In some places the Karst plateau is still an open landscape, with a large extent of extensively used dry grasslands. These steppe-like grasslands belong to the order Scorzoneretalia villosae (class Festuco-Brometea). We will see semi-dry meadows (Scorzonerion villosae), which are found on deeper soil, with more humus and moisture, and karst pastures (Saturejion subspicatae) that occur on shallow rocky soils where vegetation is much more sclerophilous and basiphilous. Karst pastures are considered as one of the most species-rich plant communities in this part of Europe. Before the dry period, around 150-200 different plant species that occur within this plant community are in flower, including many rare and interesting species such as Narcissus radiiflorus, Fritillaria tenella, gentians like Gentiana tergestina and G. utriculosa and other attractive species, like Pulsatilla montana, Polygala nicaeensis, Asphodelus albus, Paeonia officinalis, Lilium carniolicum, L. bulbiferum and three species of the genus Iris: I. illyrica, I. sibirica subsp. errerhiza and I. graminea. On this excursion we will also be able to admire some typical karst features (phenomena) like rock shelters, natural stone bridges, etc. Participants will have the opportunity to visit the famous 15th-century frescoes of "Dance Macabre" in Hrastovlje's Romanesque Church of the Holy Trinity. The church is worth visiting also for its architecture and setting.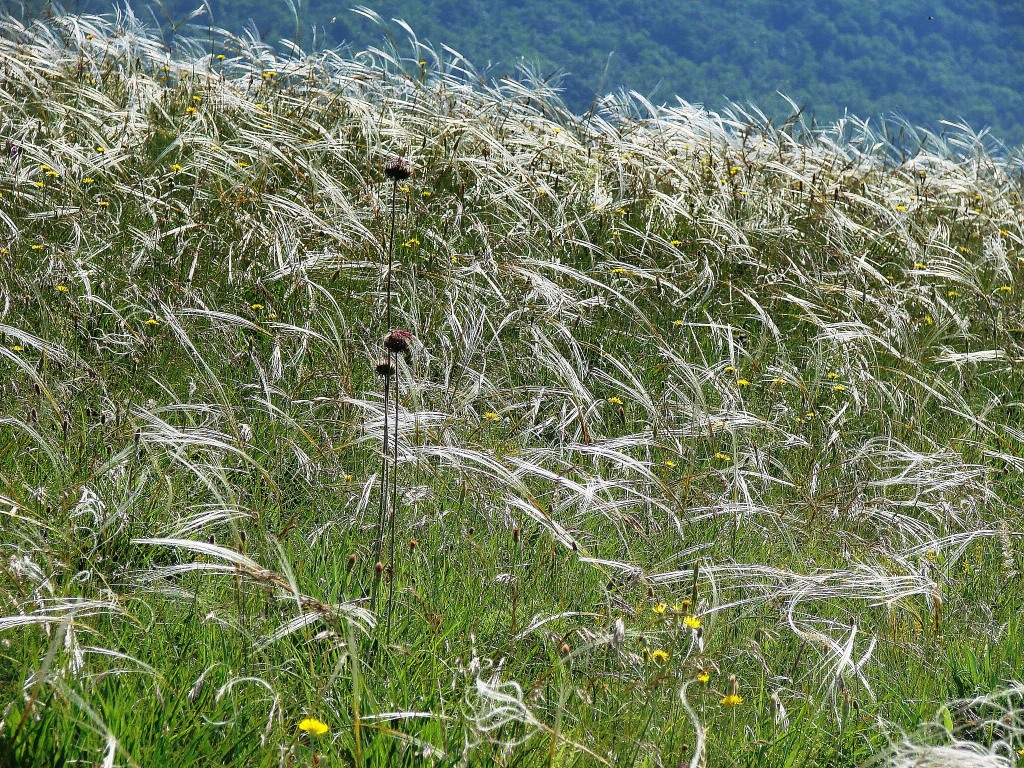 Photos: Limestone cliffs of the edge of the Karst plateau (left) by M. Kaligarič, Stipa eriocaulis dominated karst grassland by M. Kaligarič, Sub-Mediterranean Illyrian grassland by I. Paušič
Accommodation will be in two places. The first one will be in the second-largest city of Slovenia, Maribor (NE, Drava) (2-3 June). The city has the oldest vine in the world. The second accommodation will be in the Istrian coast of the Adriatic Sea at the hotel Belvedere (3-5 June) near the city of Izola.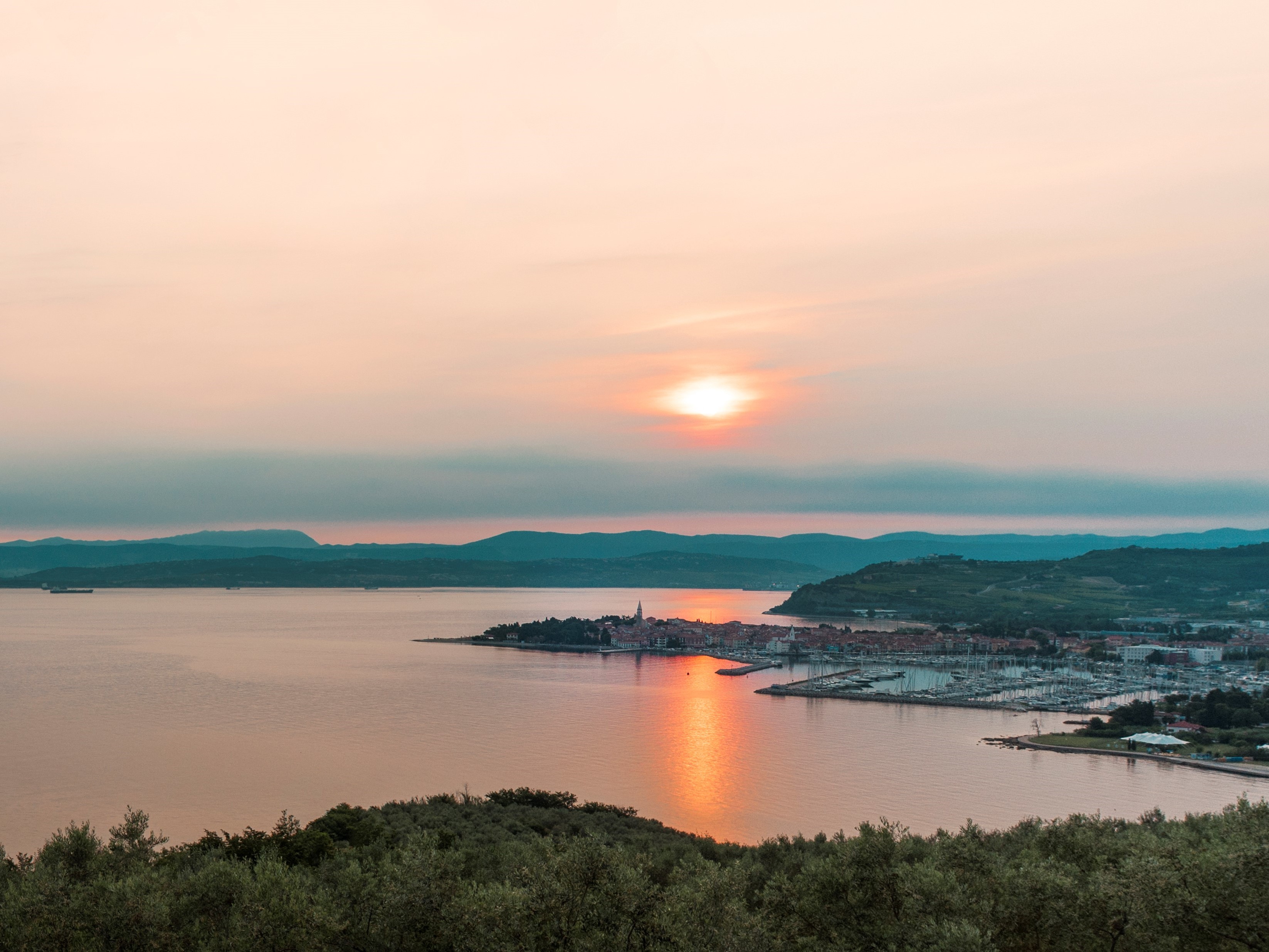 Practical advices for the participants about the excursions
Rainwear is recommended for the excursions. Be aware that ticks occur in areas we will visit. There is a risk of tick-borne encephalitis and Lyme disease throughout both countries. Travellers should avoid tick bites by wearing long sleeves and pants, preferably tucked in. Use insect repellent on exposed skin, socks or outer clothing. You should check your skin regularly for ticks and remove them as early as possible. There are also tick-borne encephalitis vaccines. Consult a physician as soon as possible if you would prefer a vaccination.