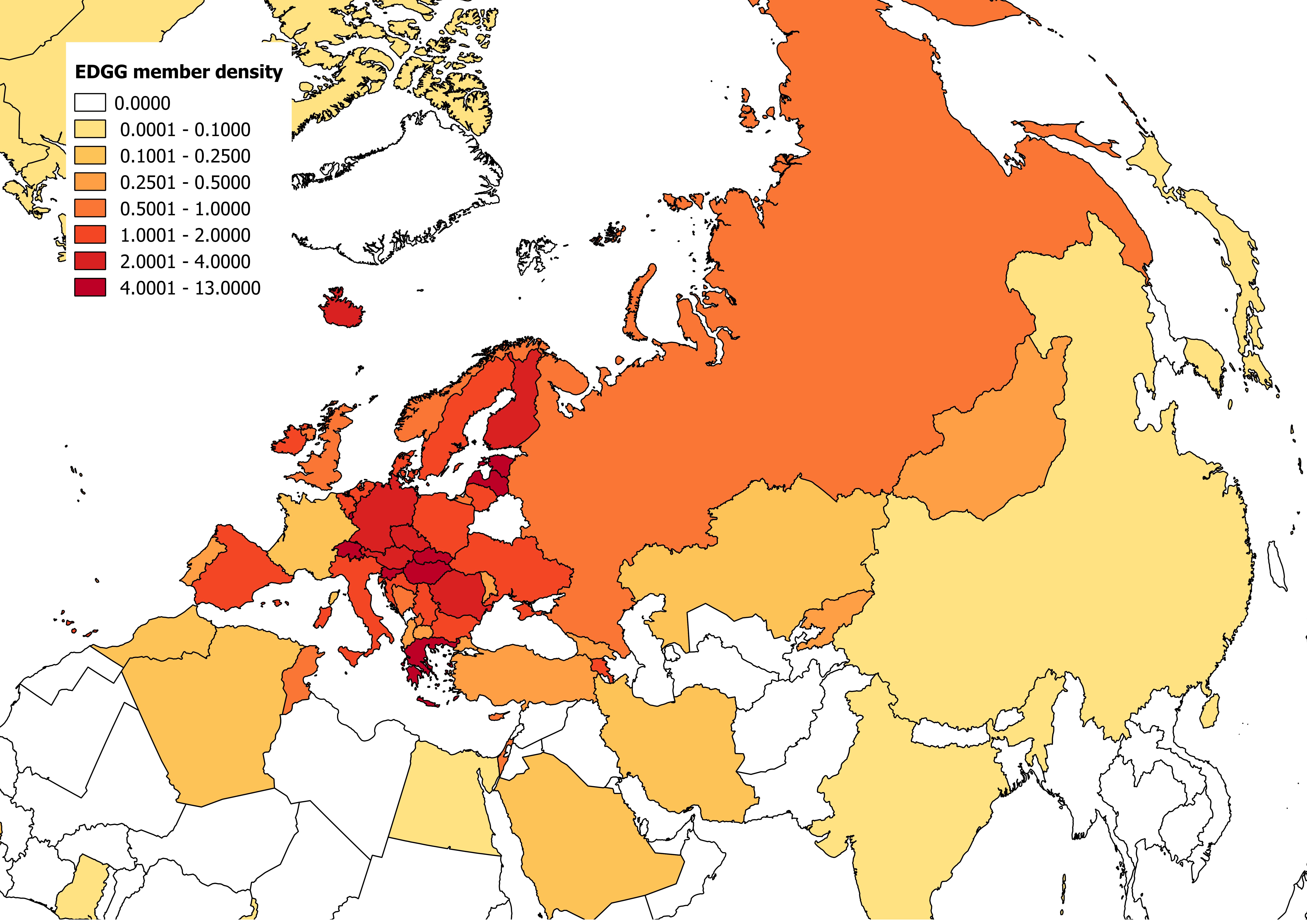 In November 2018, EDGG had 1,323 members from 65 countries. Anyone who is interested in natural and semi-natural grasslands in the Palaearctic realm can become a member of the EDGG without any obligation or fee. Please simply write an e-mail including your complete address to Idoia Biurrun, idoia.biurrun@ehu.es), who handles the membership list.
We are grateful to our friends who worked for EDGG for several years previously:
SOLVITA RUSINA
Solvita, one of the founders of the EDGG, does research on grassland ecology in Latvia. She worked for the EDGG between 2008 and 2012. She was responsible for homepage administration and conference organization.  
MONIKA JANISOVA
Monika is a researcher interested in vegetation classification. She was one of the founders of EDGG, working as a chair between 2008 and 2015.  During that time, she was the Chief Editor of the EDGG Bulletin, the predecessor of Palaearctic Grasslands. 
All EDGG activities are executed by chairs according to the Bylaws composed of 12 Articles. Please click to download the latest version of EDGG Bylaws (23 September 2016).
CONTENT MANAGER:
Didem Ambarli, didem.ambarli@gmail.com, Düzce University, Turkey
WEBSITE ADMINISTRATOR:
Falko Göckler,  falko@namupro.de, Museum für Naturkunde, Germany
We are grateful to Falko Göckler for providing maintenance and server space free of charge.
LINGUISTIC EDITORS:
Dolores Byrne, byrne.dolores@itsligo.ie, Institute of Technology, Sligo
Jim Martin, jmartin@botanicalenvironmental.com, Ireland
Laura Sutcliffe, sutcliffe.laura@gmail.com, University of Göttingen, Germany
Lorna Marcham, lornamarcham@hotmail.com, UK
Magdalena Firganek-Fulcher, mf@magentastudio.co.uk, Magenta Studio, UK
Paul Goriup, paul.goriup@fieldfare.biz, UK
Steven Venn, stephen.venn@helsinki.fi, Helsinki University, Finland
Stuart Smith, stuart.smith@cyfoethnaturiolcymru.gov.uk, Cyfoeth Naturiol Cymru/Natural Resources Wales, UK
PHOTO EDITORS:
Jalil noroozi, jalil.noroozi@univie.ac.at, University of Vienna, Austria
Rocco Labadessa, rocco.labadessa@gmail.com, Centro Studi de Romita, Italy 
EDITOR OF THE EVENTS INFORMATION:
Iwona Dembicz, iwodem@op.pl, University of Warsaw  & Polish Academy of Sciences Botanical Garden, Poland