The conference will be held in Tolosa (Basque Country, Spain, almost 20,000 inhabitants), a historic town in the province of Gipuzkoa, 25 km away from the province capital, San Sebastian (Donostia in Basque), a famous touristic location 20-30 min. away by train (https://en.wikipedia.org/wiki/Tolosa, Gipuzkoa; https://acortar.link/5QA6tQ). In medieval times, Tolosa was an important checkpoint between the Kingdoms of Navarre and Castile, France and the Cantabrian harbours. Currently it hosts many important cultural events and a traditional market every Saturday.
View of Tolosa and the River Oria with the Navarra bridge. The white building to the left of the bridge is called Tinglado (Zerkausia), where we will have lunch on 13th and 15th September. The bus for the mid and post-conference excursions will depart from a bus stop on the right side of the bridge. Photo: Isabel Salcedo.
The registration and conference sessions will be held in TOPIC, the Tolosa Puppets International Centre, in Tolosa city centre: Euskal Herria, 1.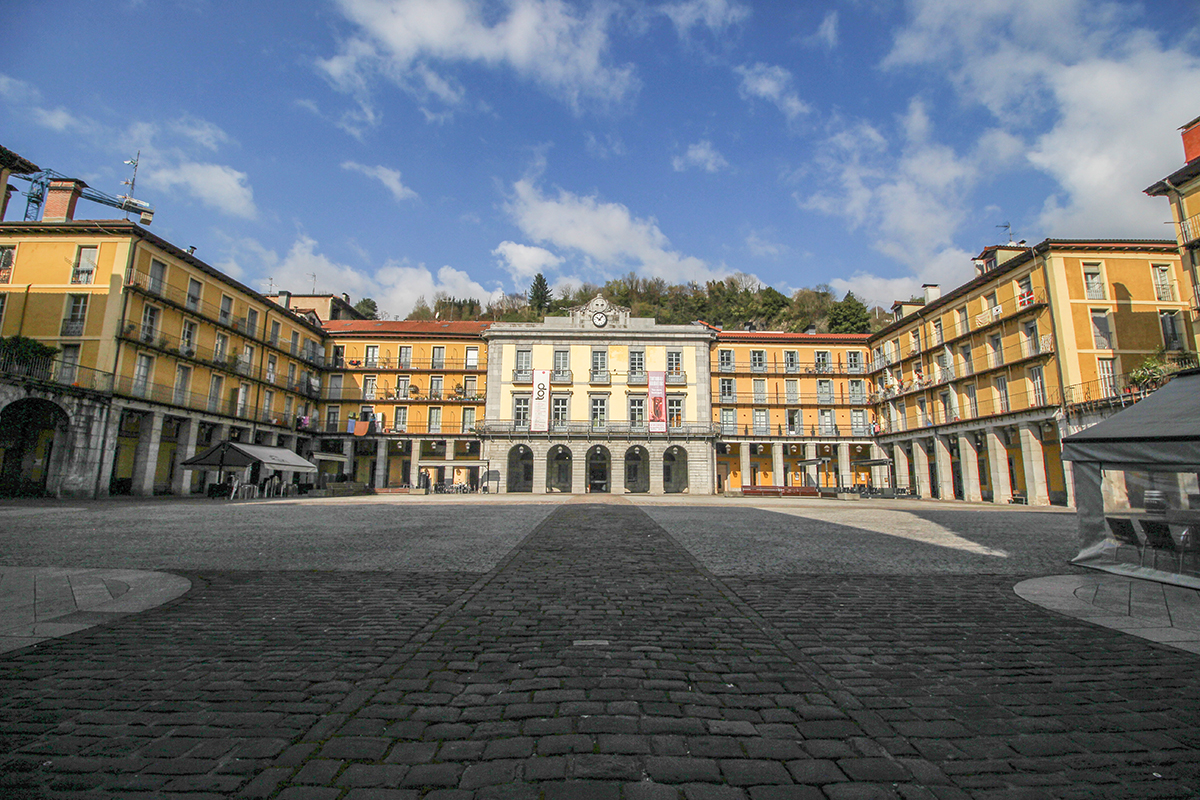 Venue of the EGC, TOPIC (Tolosa Puppets International Centre). On the left, TOPIC in the middle of Euskal Herria square (photo: http://bit.ly/2Fl3fgo); on the right, the conference hall (photo: http://bit.ly/37y4hlk).
Accomodation
Accommodation should be booked independently by each participant. In Tolosa, there are three hotels, two guesthouses, and several rural accommodations. Below we give details about them. Please take into account that beginning of September is High Season in the area, so prices are not cheap. As the availability of accommodation is rather limited, we recommend booking as soon as possible. There is also the possibility of renting private apartments on line. Prices given below include VAT. Breakfast is a continental breakfast.
Hotels
Hotel Oria: a 5 min. walk from the conference venue (https://hoteloria.com/). Prices: single room without breakfast: €69.60, with breakfast: €77.80; double room without breakfast: €88, with breakfast: €106. Free Wifi.
Hotel BideBide: adjacent to conference venue (https://hotelbidebide.eus/). Prices: double room €85 (€81 for individual use), triple room €95 (prices excluding breakfast, but with 20% discount if reservation is made via the hotel's webpage). Free Wifi.
Hostal Bentaldea: 1 km from Tolosa (https://www.bentaldea.com/hostal/). Five double rooms. Prices: €50-60. Free Wifi.
Guesthouses
Pensión Karmentxu: in the historical center (https://www.pensionkarmentxu.com/). Prices: €35 single room without bathroom, €60 double room without bathroom, €75 double room with bathroom. Breakfast available, but not included. Free Wifi.
Pensión Oyarbide: in the historical center (http://www.pensionoyarbide.com/web/index.asp). Prices: €35 single room, €50 double room, both with en suite bathroom (€27 and €45 with only sink en suite, respectively). . Possibility of additional bed. Free Wifi. No breakfast service, but many cafeterias in surroundings. Parking: €10.
Rural accommodations
Korteta Nekazalturismoa (https://www.agroturismokorteta.com/): A rural accommodation at a distance of 1.5 km from the town centre. Only suitable for people with a car, as it is quite steep to get there (160 m higher than town center). Six double rooms available, with possibility of supplementary beds, total room for 18 people. Prices change from €25 to €50 per person, depending on single/double room and season.
Teileri in Berrobi village (http://teileri.es/): New building used as rural accommodation at 5 km distance from Tolosa. Only suitable for people with car. Two apartments with parking. Each apartment with three double rooms, two complete bathrooms, kitchen, etc. Prices: Whole apartment: €155 per night, whole house (two apartments): €310 per night.
Arkaitza in Berrobi (https://www.nekatur.net/arkaitza).
Akulebi in Villabona, Legarreta Auzoa (https://n9.cl/d8bkp): 4.5 km distance from Tolosa, 1.2 km from the railway station. Three double rooms with bathroom. Breakfast service available.
Urresti and Alustiza Rural houses: both in Villabona, Amasa. 7 km distance from Tolosa.
Travelling to Tolosa
There are two international airports in the surroundings:
Biarritz airport (https://biarritz.aeroport.fr/en/), in the French Basque Country, with direct flights to several European cities, including Munich, London, Berlin, Geneva, etc.  There are direct buses from the airport to the bus station in San Sebastian (only one intermediate stop in San Sebastian city), 45 min.
Bilbao airport (http://www.aena.es/en/bilbao-airport/index.html), near Bilbao, with direct flights to many European cities. PESA company offers direct buses from the airport to San Sebastian bus station (€17.00, 1 hour and 20 min.). Timetables not yet available, but the buses leave frequently (every half hour).
There is also a regional airport, San Sebastian Airport, located at Hondarribia, on the border with France. This airport only operates with Air Nostrum, Iberia and Vueling, flying to Barcelona and Madrid.
To travel from San Sebastian to Tolosa there are both train and buses, the easiest and fastest is the train, 20-30 minutes away from Tolosa. Train station is adjacent to the bus station if you are arriving from Bilbao or Biarritz airports by bus.
If you are travelling from Madrid, there are buses from Madrid airport and Madrid bus station to Tolosa, with the ALSA company.
Map of Tolosa showing the two railway stations: Tolosa Centro (Tolosa Erdia officially) and Tolosa (estación, geltokia), and the conference venue TOPIC (BideBide hotel is adjacent) (GoogleMaps). Mercado del Tinglado (zerkausia), by the river, is a covered market where we will have lunch during the conference. The bridge adjacent to the Tinglado is the Navarra bridge. The bus for the excursions will leave at the south side, indicated with a cross. All distances in Tolosa are very small, from hotel Oria to TOPIC 5 to 10 minutes walking distance. Please click to navigate on GoogleMaps.
Visas
If you require an official invitation letter to attend the conference, please contact the Chair of the Organizing Committee, Idoia Biurrun, after registering (Department of Plant Biology and Ecology, University of the Basque Country (UPV/EHU) P.O. Box 644, 48080 Bilbao, Spain. Email: idoia.biurrun@ehu.eus). This letter will not represent any commitment on the part of the organizers to provide financial support for you; it is only for the purpose of obtaining your visa or other such purposes.